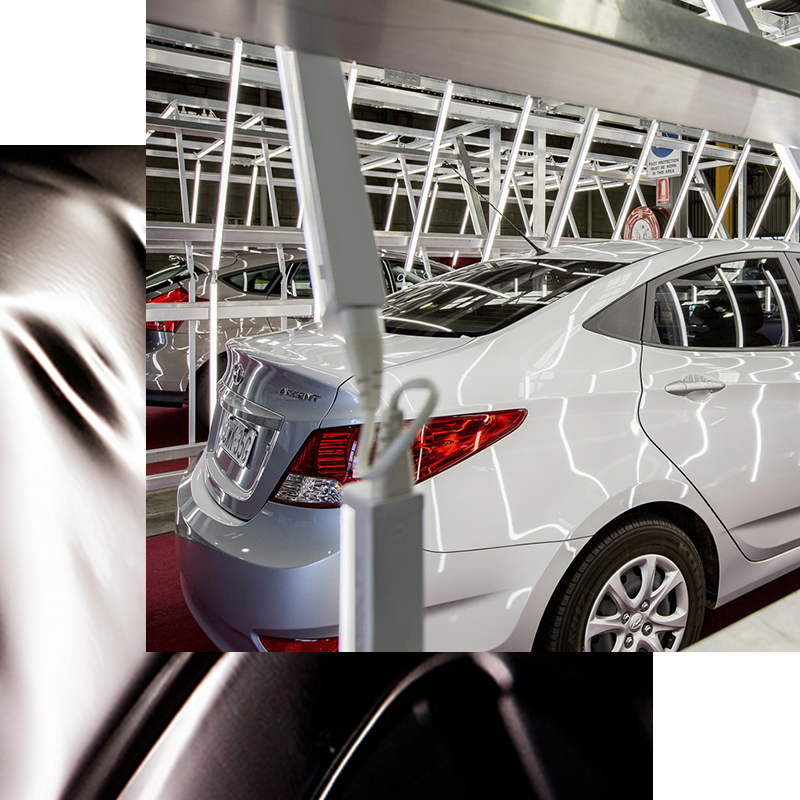 Hail.com has been the major player from the outset of specialist Hail Damage Repairs, helping Australians and New Zealanders through some of their biggest respective Hail catastrophes. 
Established in 1996, Hail.com has a track record that surpasses each and every one of our competitors in repair quality and vehicle repair time. An acute awareness of the reliance people have on their cars, as well as our personal approach also means our customer service is second to none – we're in the perfect position to deliver on the needs of our fussiest clients.
The chosen Automotive Hail Repair partner for some of the world's largest
insurers, Hail.com has the time-tested strategies, systems and personnel in place to handle thousands of hail damaged vehicles simultaneously, whilst still meeting the specific needs of every individual client.
We want you to be comfortable and confident in your hail repair. Please see below for a better understanding of Hail.com
Technicians
The Hail.com Team consists of the most highly trained and globally experienced technicians possible. Individually each technician has a minimum of 10 years experience in paintless dent removal.
Show More
All of our technicians have worked both in local storms within Australia, and spent several months a year working on our contracts in the USA, Germany, Austria, Switzerland and Spain. Their extensive experience and knowledge of different hail storms and major automotive manufacturers (including BMW, Volkswagen, Audi, Mercedes, Skoda, Kia, Opel/Holden) has provided them with skills and capabilities that are second to none.
All of our technicians are professional, friendly and have a passion for their work. They are approachable and considerate, especially when it comes to our customers.
When coming through our Catastrophe centre for your quotation, please don't hesistate to ask any of our technicians or admin staff any questions you may have. We are well aware that this is most likely the first time you will ever have experienced hail damage, and we want you to be comfortable and confident in the repairs that are happening to your vehicle.
Facilities
Our team of technicians, office staff and management are proud to have multiple permanent repair locations not only within Australia, but all over the globe.
Show More
All of our workshop premises are air conditioned and fitted out with top of the range, latest technology tools and equipment needed to carry out our renowned PDR work.
Management, Sales and Accounts staff have their own separate workspace and office, located above our head office in Sydney. It features all the requirements necessary to run our successful business, along with a comfortable waiting area with modern facilities for our customers.
Our Brisbane centre is strictly for R&D. Currently, as of 2022, we have completed production of our HAIL3D® Gen2 Hail scanner, and are underway developing our Gen3 Hail Scanner which we expect to release this year.
THE WORLD'S LARGEST CATASTROPHE MANAGEMENT NETWORK
Specialists in hail damage repair.
Global Projects completed since 1996.
Satisfied Hail damaged Customers.
Current - Ongoing hail damage Projects.
Dents caused by hail damage, Repaired.
"Hail.com are factory trained, and are the best in the world."
Jacob C Montague, RBM of Atlanta, Atlanta USA
"Fantastisch, freundlich und verlässlich. Die Besten der Welt."
Bastain Bultink, Identica-Bultink GmbH, Hagen Germany
"They are the most reliable Paintless Dent Repair company we have ever dealt with."
Dennis Standen, Kloster Ford Group, Newcastle Australia
Our Mission is to impress our customers by delivering friendly, rapid and technology driven hail repairs